Trump rips into Pelosi after 'puff piece' '60 Minutes' interview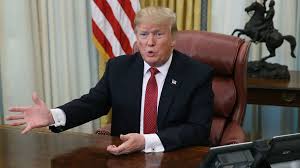 President Trump launched a rare Twitter attack on House Speaker Nancy Pelosi (D-Calif.) following her "60 Minutes" interview with CBS's Lesley Stahl on Sunday night.
"Such a 'puff piece' on Nancy Pelosi by @60Minutes, yet her leadership has passed no meaningful Legislation. All they do is Investigate, as it turns out, crimes that they instigated & committed. The Mueller No Collusion decision wasn't even discussed-and she was a disaster at W.H.," Trump tweeted.
Trump has rarely used Twitter to directly attack Pelosi, in contrast with his frequent barbs directed at Democrats such as Senate Minority Leader Charles Schumer (N.Y.). He is reportedly set to meet with her in the near future to discuss a potential bipartisan infrastructure package.