Trump says he'll 'destroy' rule barring churches from endorsing political candidates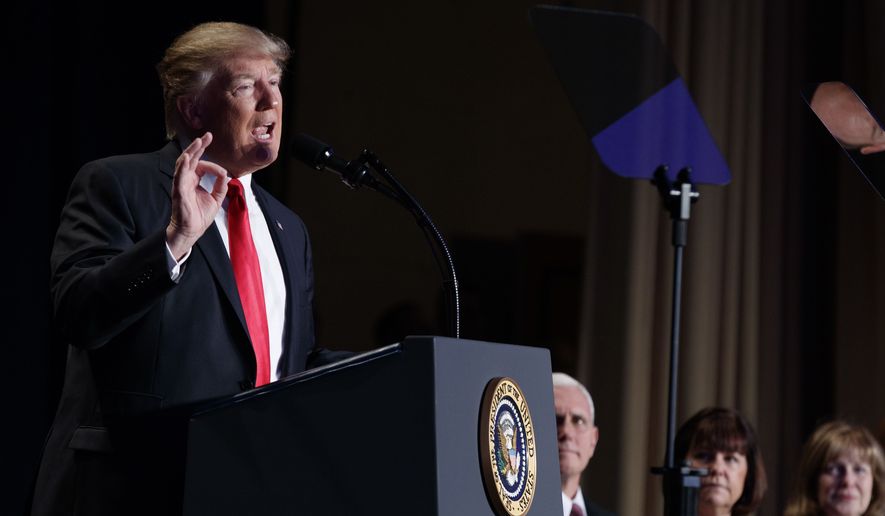 President Trump told religious leaders Thursday that he wants to "destroy" the Johnson Amendment, a longstanding legal barrier that prevents churches and charitable groups from endorsing political candidates.
"I will get rid of and totally destroy the Johnson Amendment and allow our representatives of faith to speak freely and without fear of retribution," Mr. Trump said at the annual National Prayer Breakfast in Washington.
The 1954 IRS provision prevents tax-exempt organizations from campaigning for or endorsing any political candidates. Some Republican lawmakers want to repeal it, and Mr. Trump had promised during his campaign to get rid of the measure.
The president did not elaborate on how he intends to carry out the proposed move. But two House Republican lawmakers and Sen. James Lankford, Oklahoma Republican, introduced legislation Wednesday that would amend the tax code to "restore free speech" for churches and nonprofits as long as the speech takes place "in the ordinary course" of the organization's activities, and related expenses are minimal.
"For too long, the IRS has used the Johnson Amendment to silence and threaten religious institutions and charitable entities," said Rep. Jody Hice, Georgia Republican. "As a minister who has experienced intimidation from the IRS firsthand, I know just how important it is to ensure that our churches and nonprofit organizations are allowed the same fundamental rights as every citizen of this great nation."