Trump supporters pelted by eggs, punches can sue San Jose cops after attack, court says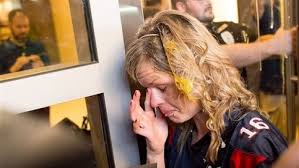 Supporters of then-presidential candidate Donald Trump who were met with flying eggs and punches from counter protesters during a June 2016 San Jose campaign rally can sue the city's police for allegedly failing to protect them, a new court ruling said.
Trump supporters – many sporting red Make America Great Again hats – who were attending a rally at the McEnery Convention Center were met with hundreds of anti-Trump protesters as they were shepherded out of the building via a single exit.
The suit's 20 plaintiffs claim in a lawsuit that police knowingly ordered them to leave through an exit where protesters were waiting, despite the existence of a safer route and other exits, the San Francisco Chronicle reported last week.
The plaintiff's said they were beaten or struck by objects thrown by the protesters. Initial accounts of the events also said at least one woman was pelted by an egg after a crowd of demonstrators surrounded her, as seen in video of the incident.