Trump tells veterans Hillary Clinton can't be trusted to overhaul VA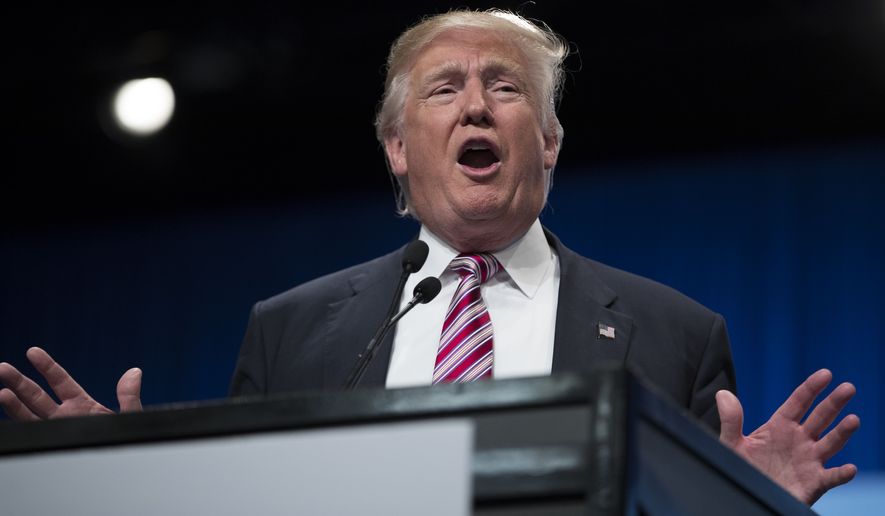 Donald Trump vowed Tuesday to fire those responsible for the problems that have plagued the Department of Veterans Affairs and to give military veterans access to private health care providers, warning that "crooked Hillary Clinton" seems bent on sweeping the entire controversy "under the rug."
Mr. Trump told the Veterans of Foreign Wars gathered in Charlotte, North Carolina, for the group's 117th annual convention that Mrs. Clinton has downplayed the problems at the VA and that her track record shows she is not ready to fix them.
"She recently said of the VA scandal that is it not as widespread as it is purported to be," Mr. Trump said. "It is like she is trying to sweep it under the rug, which by the way politicians have done for years and years and years. It is going to be four more years of the same if she ever got in. But that's not going to happen."
"We know how she takes care of the veterans, just look at her invasion of Libya and handling of Benghazi — a disaster," he said. "Or look at her emails, which put Americans entire national security at risk."
Mrs. Clinton spoke before the group on Monday and is set to accept the Democratic nomination for president later this week at her party's convention in Philadelphia.