Trump urges GOP to vote against bill reauthorizing surveillance powers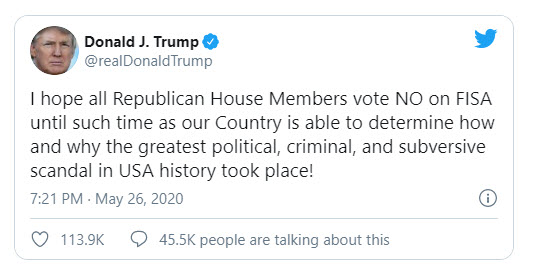 President Trump on Tuesday evening urged House Republicans to vote against a surveillance bill that will be brought to the floor this week after lawmakers reached an agreement to vote on a key provision.
"I hope all Republican House Members vote NO on FISA until such time as our Country is able to determine how and why the greatest political, criminal, and subversive scandal in USA history took place!" Trump tweeted, referring to the Foreign Intelligence Surveillance Act.
Trump's tweet comes after months of speculation about whether he would support the bill and less than a day before it is scheduled to get a vote on the House floor Wednesday, throwing an eleventh-hour curveball into its path.
The Senate approved legislation in a bipartisan vote earlier this month reauthorizing three expired surveillance programs under the USA Freedom Act, a 2015 intelligence reform law.