Trump vows vigorous response after viewing Harvey's devastation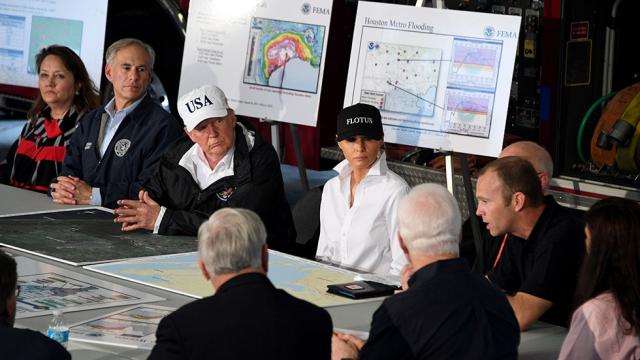 President Trump got a firsthand look on Tuesday at the devastation from Hurricane Harvey and the deadly floods and torrential rains that have displaced tens of thousands of people in Texas and the Gulf Coast region.
The president and first lady Melania Trump made stops in Corpus Christie and Austin for meetings with government officials and to survey the damage, as search-and-rescue operations were in full swing across the state and cable news outlets ran grim pictures of Houston, the nation's fourth largest city, submerged under water.
The president spent much of the day at the head of meeting tables in a black windbreaker and white "USA" hat listening to updates from his advisers, Cabinet secretaries, government officials and lawmakers about the devastation and government response to the natural disaster.
"This was of epic proportions, nobody has ever seen anything like this," Trump said from the Annaville Fire Station in Corpus Christi, where picnic tables had been arranged on the concrete floor for the meeting with Texas Gov. Greg Abbott (R).