Trump will declare North Korea a state sponsor of terror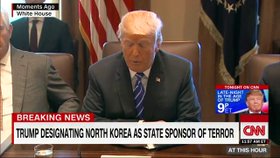 President Trump said on Monday that he will designate North Korea as a state sponsor of terrorism, a move designed to further isolate the rouge nation for its pursuit of nuclear weapons.
Trump said the move will impose further penalties on Pyongyang and result in the "highest level" of sanctions ever placed on the country. He added that the designation will be formalized Tuesday.
Trump said that the decision "should have happened years ago" and will ramp up pressure on the "murderous regime" to "end its unlawful nuclear and ballistic missile development."
The decision returns North Korea to a list it was removed from in 2008 in order to ease nuclear talks with the George W. Bush administration.