Trump's Huge Endorsement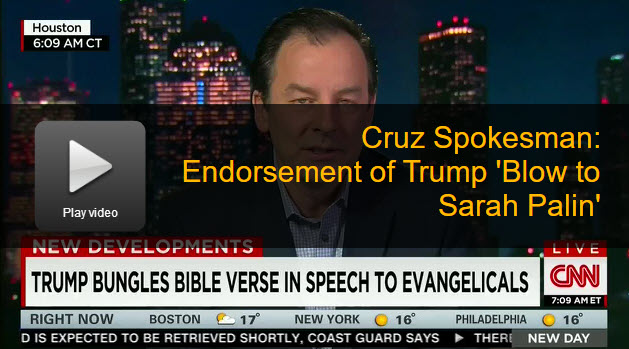 In an appearance CNN's "New Day" on Tuesday, Rick Tyler, a spokesman for Sen. Ted Cruz's (R-TX) presidential campaign, reacted to the news of a "major announcement" that includes a "very special guest" at a campaign event for GOP presidential front-runner Donald Trump in Ames, IA later in the day and the possibility that guest could be former Gov. Sarah Palin (R-AK), the 2008 Republican vice-presidential nominee.
Tyler was asked if Palin were to endorse Trump if it would be a "blow" to Cruz's presidential effort, to which Tyler said it would be a "blow" to Palin instead.