U.S. evacuates Iraq embassy as bombs, fighting rock Iraq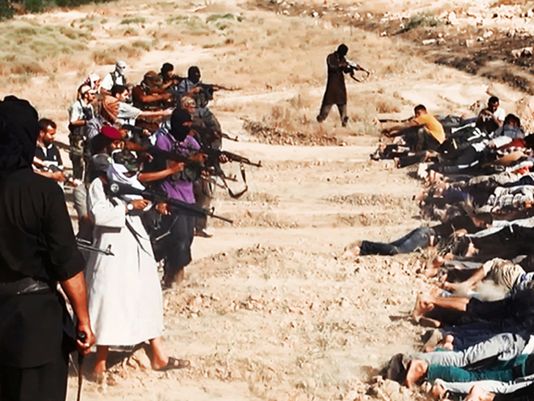 BAGHDAD – Islamic militant insurgents captured the northern Iraqi town of Tal Afar early Monday, its mayor and residents said, striking another blow to the nation's Shiite-led government a week after it lost a vast swath of territory in the country's north.
The town has a population of roughly 200,000 people, mostly ethnic Shiite and Sunni Turkomen, and was taken just before dawn, Mayor Abdulal Abdoul told the Associated Press.
A Tal Afar resident reached by phone confirmed the town's fall and said militants in pickup trucks mounted with machineguns and flying black jihadi banners were roaming the streets as gunfire rang out.
The United States said Sunday it was evacuating some staff from its embassy and beefing up security as deadly explosions rocked the Iraqi capital and militants released graphic images appearing to show its fighters massacring captured Iraqi soldiers.
The U.S. State Department said in a statement that an undisclosed number of staffers will be moved to Amman, Jordan, or U.S. consulates elsewhere in Iraq not immediately threatened by the insurgent group, the Islamic State of Iraq and the Levant, or ISIL.