Vice President Pence honors veterans by cleaning Vietnam memorial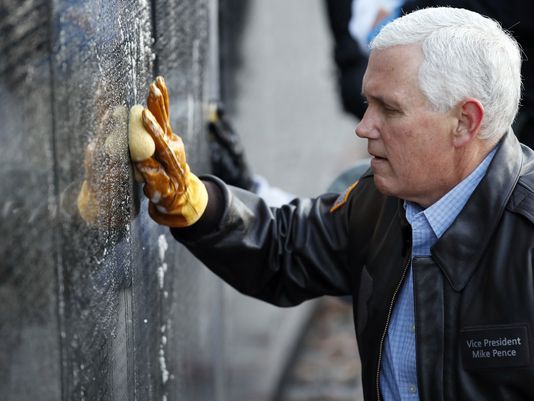 WASHINGTON — Vice President Pence's work glove quickly soaked through with water as he scrubbed the names etched in the black granite walls of the Vietnam Veterans Memorial Saturday.
Pence, the son of a Korean War veteran and father of a Marine, would later lay a wreath and deliver a tribute to veterans at Arlington National Cemetery.
But he began the morning dressed for cleaning duty, arriving on the National Mall in blue jeans, old cowboy boots and yellow gloves soon after the sun rose over the Capitol dome in the distance.
"Good morning all," Pence said to the group of about 40 volunteers. "Mike Pence. Great of you all to be here. Happy Veterans Day."