VP debate goes off the rails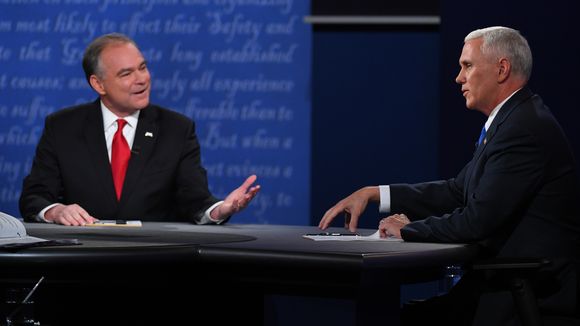 FARMVILLE, Va. – From the opening moments of their debate here at Longwood University, Tim Kaine constantly attacked Donald Trump, while Mike Pence defended his running mate and slammed Hillary Clinton's foreign policy and private e-mail server.
Within 10 minutes, they were talking over each other, running roughshod over moderator Elaine Quijano. And she allowed the debate to keep careening out of control, with the candidates at one point clashing over who was running the more insult-driven campaign. The moderator especially let Kaine cut off Pence far too often when it was the Republican's turn to talk.
The rat-a-tat nature of the rhetoric made it hard to pick a winner.
Kaine was more aggressive, but his high-velocity denunciations of Trump sounded forced and scripted at times. Pence, more often playing defense, spoke at a more measured clip, needled Clinton, let some attacks go by, and at one point even uttered a Reaganesque "there you go again."
These were two usually polite politicians on a mission, to rough up the other side.
Kaine, asked whether many people distrust Hillary because of the email scandal and Clinton Foundation, said she has "a passion" in her life then pivoted to attacking Trump over birtherism and his speech about Mexican rapists.