Trump now wants NATO allies to spend 4 percent of GDP on defense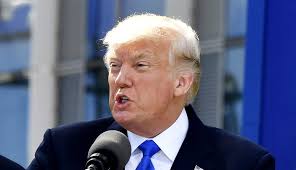 President Trump is suggesting that NATO allies double their military spending goal to 4 percent of their gross domestic product, the White House confirmed on Wednesday.
Trump previously pressed members of the North Atlantic Treaty Organization to raise their spending to 2 percent by 2024.
Most NATO nations spend less than 2 percent of their GDP on military programs, though the U.S. spends more. Trump has argued the U.S. effectively subsidizes its allies' defense.
The new 4 percent goal was initially disclosed by Bulgarian President Rumen Radev, a supporter of the idea, following a meeting with Trump, and was later confirmed by White House press secretary Sarah Sanders.