At Least 105 Killed As Powerful 7.1 Earthquake Strikes Central Mexico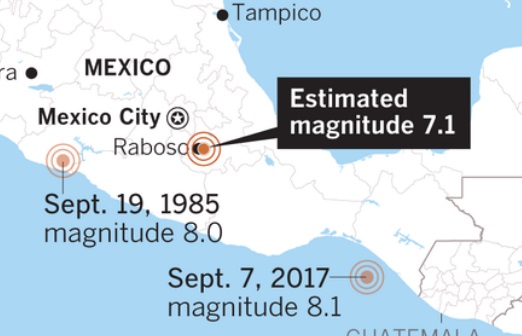 A powerful 7.1 earthquake shook central Mexico on Tuesday, collapsing homes and businesses across hundreds of miles, killing at least 105 people and sending thousands more fleeing into the streets screaming.
In Mexico City alone, at least 30 people died and 44 buildings were reduced to rubble, the Associated Press reported. Eight others were reported killed in the surrounding state of Mexico, 13 in the state of Puebla and 54 across the state of Morelos.
The temblor caused buildings to sway violently in Mexico City, including in the historic districts of El Centro and Roma, collapsing some of them and causing huge cracks to appear on the facades of others. .
Panic spread through the city's central core, where dozens of buildings collapsed. Rescue vehicles screamed toward damaged buildings, and neighbors took on heroic roles as rescuers.