COUP IN TURKEY 'FAILS' MILITARY LOSES CONTROL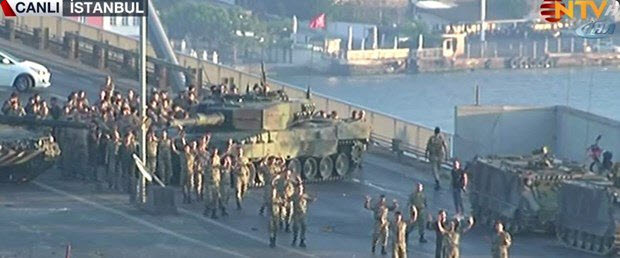 Turkey's leaders said they crushed an attempted military coup to topple President Recep Tayyip Erdogan after hours of clashes through the night that saw tanks blockading roads, soldiers fighting police and warplanes bombing the parliament in Ankara.
Almost 200 people, including dozens of coup backers, were killed and 2,839 military personnel were arrested, pro-Erdogan forces said. At dawn, about 50 rebel soldiers who had been blocking a bridge across the Bosphorus in Istanbul were shown on television leaving their tanks and armored carriers with hands raised. By Saturday morning, most international flights were canceled and streets in Ankara and Istanbul were virtually deserted with shops largely shuttered.
Erdogan, who arrived at Istanbul's international airport at about 6:30 a.m. local time from vacation at the Aegean coastal Marmaris, blamed the plot on followers of U.S.-based Islamic preacher Fethullah Gulen — a one-time ally-turned nemesis — and promised swift punishment. "They will pay a heavy price for their treason," he said. A group backed by the preacher condemned military intervention in domestic politics in a statement on its website.
The plot will likely give Erdogan, who served as prime minister for more than a decade and is the most influential figure in Turkish politics since Mustafa Kemal Ataturk, more ammunition to crack down on opponents as he seeks to transform a largely ceremonial presidential post into the center of power.
Yet even as Erdogan appears confident of quashing the bloodiest attempt to end his rule, the attempted coup risks fueling more instability in a country already entangled in the war in neighboring Syria as well as a conflict with Kurdish separatists at home.