Cowards: 'Soldiers of ISIS' used nun as shield after slitting French priest's throat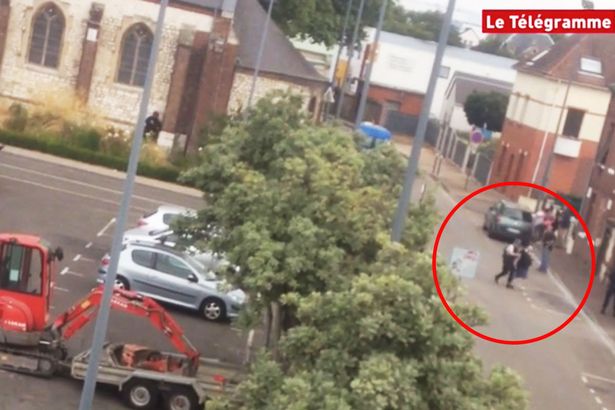 The two self-proclaimed "soldiers of ISIS" who stormed a church in northern France during Mass Tuesday and slit the throat of an 85-year-old priest held nuns at gunpoint as they tried to flee, in a dramatic moment caught on video just before police marksmen killed them.
Video posted on the French news site Le Telegramme captures the jihadists, who had earlier pledged allegiance to ISIS, as they spill out of the church, using the nuns as human shields.The killers, identified by police as Adel Kermiche and Abdel Malik, shout "Allahu Akbar" as they run from the church in Saint-Etienne-du-Rouvray, each holding a gun to the head of a nun as police snipers take aim.
The video, which is trained on the church and a parking lot, shows a group of heavily armed French police moving in unison outside the church. Toward the end of the footage, gunshots ring out.
Authorities in France are working to piece together any security lapses leading up to the attack. France's anti-terrorism prosecutor said one of the men in the attack evaded police twice using relatives' ID cards in attempts to reach Syria.
Paris prosecutor Francois Molins told reporters that Kermiche was wearing an electronic surveillance bracelet when he and another attacker slit the throat of a priest in the town of Saint-Etienne-du-Rouvray Tuesday. Kermiche and the other assailant were killed by police.