David Cameron admits he profited from father's Panama offshore trust fund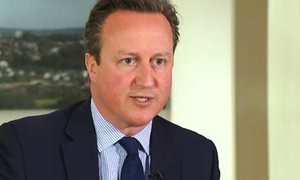 David Cameron has finally admitted he benefited from a Panama-based offshore trust set up by his late father.
After three days of stalling and four partial statements issued by Downing Street he confessed that he owned shares in the tax haven fund, which he sold for £31,500 just before becoming prime minister in 2010.
In a specially arranged interview with ITV News' Robert Peston he confirmed a direct link to his father's UK-tax avoiding fund, details of which were exposed in the Panama Papers revelations in the Guardian this week.
Admitting it had been "a difficult few days", the prime minister said he held the shares together with his wife, Samantha, from 1997 and during his time as leader of the opposition. They were sold in January 2010 for a profit of £19,000.