Ecuador earthquake: Death toll jumps to 246; more than 2,500 injured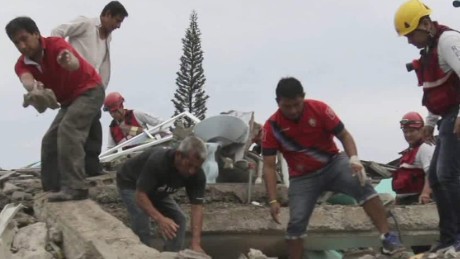 (CNN)Rescue crews searched desperately through rubble Sunday for survivors of a magnitude-7.8 earthquake that struck coastal Ecuador.
The death toll has soared to 246, Ecuador's Vice President Jorge Glas said Sunday evening on Ecuador TV. At least 2,527 people were injured, he said.
The hardest-hit area was the coastal Manabi Province, where about 200 people died, said Ricardo Peñaherrera of Ecuador's national emergency management office. The cities of Manta, Portoviejo and Pedernales, a tourist destination, saw the most devastation but damage was widespread throughout the country.
"It was the worst experience of my life," survivor Jose Meregildo said Sunday about the tremors that violently shook his house in Guayaquil, 300 miles away from the quake's epicenter. "Everybody in my neighborhood was screaming saying it was going to be the end of the world."