Faced with tariffs, Tokyo looks set for caution as it enters trade talks with US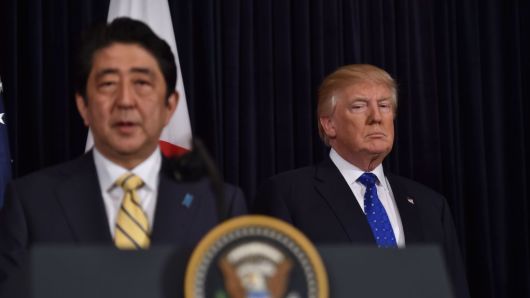 Japan has long been resistant to a free trade agreement with the United States but faced with the threat of harsh tariffs, the Asian giant appears to have changed its mind.
Japanese Prime Minister Shinzo Abe and President Donald Trump agreed to start trade negotiations on Wednesday in an move that will likely shield Tokyo from Trump's proposed 25 percent duty on imports of Japanese vehicles and automotive parts. But entering talks was considered a major concession for Abe, who will now have to carefully manage U.S. demands to open up his country's sensitive agriculture sector.
"This was something that, for various reasons over the years, Japan was unwilling to do and now they are willing to do," Trump said at a meeting with Abe in New York.
Before Trump's threat of auto tariffs, Tokyo had previously made clear that it preferred the multilateral framework of the Trans-Pacific Partnership, which Trump exited in 2017, over a two-way arrangement. As the countries now prepare to discuss goods, services and investment, Abe is widely expected to keep his guard up to prevent criticism at home.