Hundreds of Thousands of Women in the Streets Protesting Trump. Where Were They On Election Day?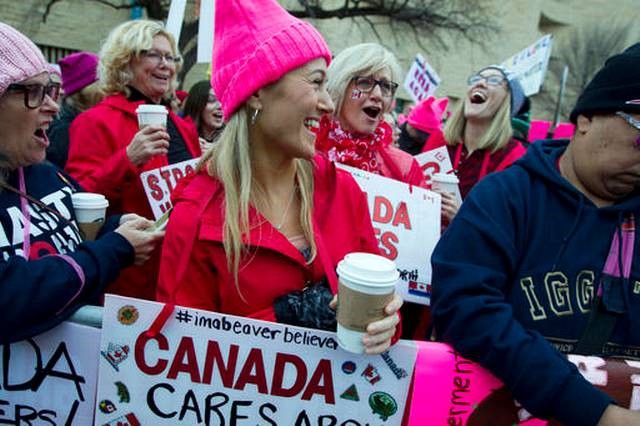 Liberal women who seemed to have missed their chance at the ballot box have certainly been taking their chances in the streets. Over the weekend following the inauguration of our new President Donald Trump, hundreds of thousands of women left their homes, donned matching pink hats, and paraded around America holding beaded and bejeweled signs decrying the peaceful exchange of power.
Where was all this effort in November?
It gets better. Not only did these women cause disruption and havoc across the nation, but they brought their kids with them. The kids then bragged to national news about setting fires and saying to the rest of us, "Screw our President." Add to this the brutal street assault of Richard Spencer during a live interview, and you have a level of liberal violence that certainly speaks to the need for law and order that Trump made a point of repeating during his campaign.
Where was all of this "fire" is November?
In the meantime, the woman that all of these women could have voted for sat calmly beside her husband on Friday as the new President was sworn in. Quite telling that Hillary, who understands firsthand how to sabotage a fair election, also knows when she's been beaten in one. Perhaps she should have been given the microphone for a few minutes during the inauguration to say as much. She did use Twitter to disseminate a characteristically dry message, thanking protestors for "standing, speaking and marching for our values." Interesting that she chooses Twitter as her megaphone of choice now instead of during the election – maybe she has learned a lesson about how to communicate with a voter base (2 months too late).
It is also telling that these women's marches were able to cultivate a level of enthusiasm, however barbaric and ineffective, that Clinton never received on the campaign trail. Experts are estimating that the so called "Women's March on Washington" drew over 500,000 people, clogging the subways. On first glance, one might contend that more effort was placed into matching outfits and ordering Starbucks than in presenting a cogent political viewpoint.

Is this a protest rally or a Starbucks & Book Club gathering?
Over 600 "sister marches" were somehow planned around the world in solidarity with the March on Washington, again, begging the question why Clinton couldn't dreg up a fraction of this support or organization, even with millions of dollars and a dedicated professional campaign staff at her disposal. Keeping in mind there was also another woman in the race, Jill Stein, that these women could have voted for, there is little to argue here except to tell these Starbucks soccer moms to set their alarms forward one hour in 4 years, when they will again have a chance to oversleep an election involving Donald Trump.
Speaking of Trump, while the protest marches were going on, the newly minted President was attending a prayer at the Washington National Cathedral. His staff was hard at work reorganizing the White House website and meeting with Dr. Ben Carson to discuss housing policies over the next few years. Despite the destruction coming from the left, Trump seems to be adamant in pushing forward an agenda to restore America to stability and prominence. Hopefully we can look forward to this viewpoint winning out over the next 4 years.