Israel warns Syrians away from frontier as Assad closes in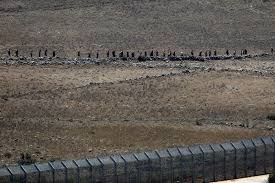 "Go back before something bad happens. If you want us to be able to help you, go back," an Israeli army officer on the Israeli side of a frontier fence told the crowd in Arabic through a megaphone. "Get a move on."
The offensive has triggered the single biggest displacement of the war, with several hundred thousand people uprooted. Both Israel and Jordan have said they will not allow Syrians to cross into their territory.
Israel, which seized the Golan in the 1967 Middle East War, has given humanitarian aid to refugees in encampments close to a 1974 Israeli-Syrian disengagement line. Many of the displaced are sheltering within the disengagement zone that is monitored by a U.N. force.
The Syrians who approached the frontier fence stopped some 200 meters (yards) away, before an Israeli soldier told them to leave.