Japan's Abe will meet China's Xi — under the shadow of Trump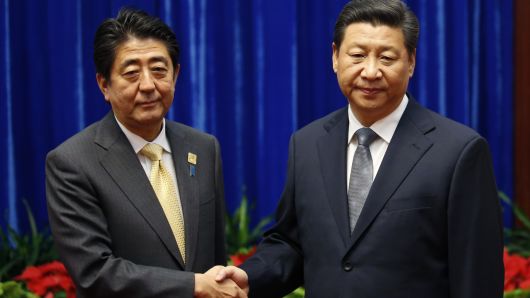 Prime Minister Shinzo Abe of Japan faces a tough balancing act as he heads to Beijing for a Thursday summit with Chinese President Xi Jinping.
Japan's often fraught relations with China are improving — as highlighted by Abe's Oct. 25-27 visit, the first stand-alone journey to the country by a Japanese leader in nearly seven years.
But it comes as long-time ally and security guarantor the United States wages a tariff war on China, Japan's biggest trading partner, while occasionally tossing ominous threats Tokyo's way as well.
"Navigating between the two is a challenge" for Abe, said Japan politics and security expert Brad Glosserman, a visiting professor at Tama University in Tokyo and senior adviser at Honolulu-based think tank Pacific Forum. Glosserman spoke to CNBC on Monday.