Pope Bids Faithful Farewell In Emotional, Historic Exit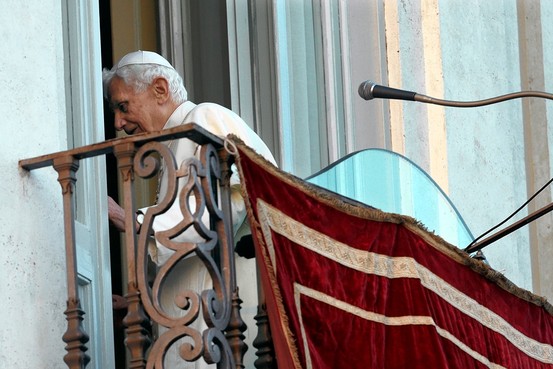 CASTEL GANDOLFO, Italy—For the first time in the past six centuries of Roman Catholicism, a pope appeared at his balcony—high above the throng—not to greet the faithful, but to bid them farewell.
Benedict XVI renounced his office as supreme pontiff of the Catholic fold on Thursday, taking a step that few popes have dared in the 2,000-year life of the Church. His departure was characteristic of a man who thought in terms of centuries, but whose papacy was often swept up in the tumult of daily headlines.
Now, attention shifts to the cardinals who will forge Catholicism's future through one of its oldest traditions: a secret conclave to elect a new leader.
"You know this day is different than my previous days," a smiling Benedict XVI told a crowd gathered before the facade of the papal summer residence in the medieval town of Castel Gandolfo. "I will simply be a pilgrim on the last stop of my pilgrimage on this earth."
Pope Benedict XVI recalled moments of 'joy and light' during his papacy, but also times of difficulty.
The pope departed Vatican City in dramatic fashion, whisked by a white helicopter over the sun-kissed dome of St. Peter's basilica. At the striking of 8 p.m., the official hour of the papacy's end, Church officials sealed the papal apartments and elevator. The papal ring, which bears the image of St. Peter as a fisherman and the seal of his authority, was broken. Bells tolled.