Pope Francis To Be Greeted By Image Of Bare-Breasted Nun On Visit To Naples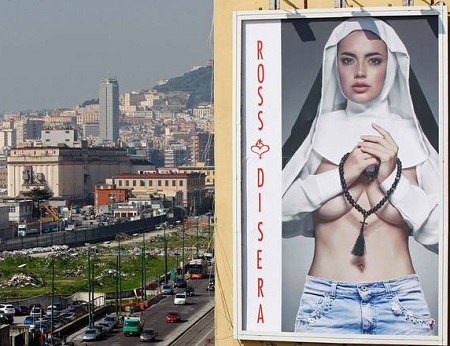 Pope Francis is set to be greeted by a bare-breasted image of a nun on an official visit to Naples next weekend.
The image, which shows a woman dressed in a nun's habit and jeans, clutching rosary beads with her naked breasts exposed, appears on a giant 20ft x 30ft billboard several storeys up in the city centre.
It has been placed there as part of an advertising campaign by fashion label Rosso di Sera, a week ahead of the Pope's arrival in the southern Italian city..
But residents and Catholic officials have reacted angrily to the move, with some demanding that it is taken down before the papal visit.
One local man described it as an "ugly image", while a woman walking by the advert told Il Sole 24 Ore it could have been made "a bit less obscene".