South Africa's ANC to Order President Zuma to Quit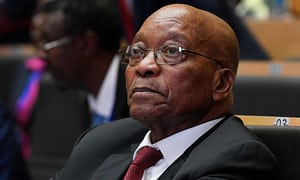 South Africa's ruling African National Congress decided to tell President Jacob Zuma to step down after he refused the top party leadership's request for him to resign voluntarily, according to five people familiar with the matter.
The ANC's National Executive Committee took the decision during a 13-hour meeting that ended early Tuesday in Pretoria, the capital. It was called to decide on a transition of power to the party's new leader, Cyril Ramaphosa, said the people, who declined to be identified because the decision hasn't been made public. Calls to ANC spokesman Pule Mabe's mobile phone didn't connect.
"Zuma is clearly digging in, fearing what could come next should he resign prematurely," Mark Schroeder, vice president of Africa analysis at geopolitical advisory company Stratfor, said in an interview with Bloomberg Television on Monday. "It's an open question whether the ANC members of Parliament will vote with the multiple opposition parties to compel the president to resign."
The ANC is trying to remove Zuma to allow Ramaphosa, 65, to take over as president more than a year before the 2019 elections, giving him time to convince voters that he's committed to meeting his pledges to rebuild a battered economy and clamp down on the graft that critics say has become synonymous with the Zuma era.