Suspected Islamists kill Bangladeshi gay activist working for U.S. embassy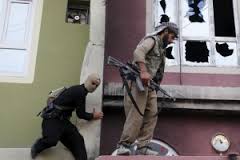 Suspected Islamist militants hacked to death a leading Bangladeshi gay rights activist employed by the U.S. embassy and a friend in an apartment in Bangladesh's capital on Monday, police said.
The killings took place two days after a university professor was slain in similar fashion on Saturday in an attack claimed by Islamic State.
Five or six assailants went to the apartment of Xulhaz Mannan, 35, an editor of Rupban, Bangladesh's first magazine for gay, bisexual and transgender people, and attacked him and a friend with sharp weapons, Dhaka city police spokesman Maruf Hossain Sordar said.
They entered the apartment disguised as couriers, he said, quoting witnesses.