Turkey Press Crackdown Seen Widening to Human Rights Groups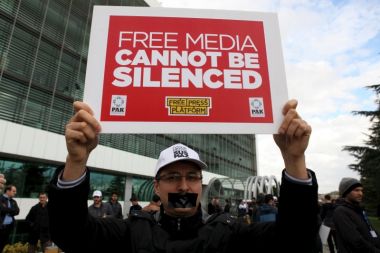 Turkey jailed three leading press freedom and human rights advocates, charging them with disseminating terrorist propaganda after they joined a solidarity campaign for a newspaper focusing on Kurdish issues.
Erol Onderoglu, who represents the Paris-based press freedom organization Reporters Without Borders, was arrested after appearing in an Istanbul court on Monday. Sebnem Korur Fincanci, a forensics expert who helped set the international standard for documenting torture claims, and writer Ahmet Nesin, were also sent to prison on similar charges.
The three had served as honorary editors-in-chief for Ozgur Gundem, a daily newspaper and news website whose coverage focuses on the conflict between the government and the autonomy-seeking Kurdish militant group PKK. Turkish authorities have opened criminal investigations against 37 of 44 people who protested a crackdown on Ozgur Gundem staff by joining a campaign to serve as the paper's rotating "on-duty editor-in-chief" since last month, T24 news reported.
Monday's arrests mark "an unbelievable low" for Turkey, Reporters Without Borders said in a tweet following the arrests. Emma Sinclair-Webb, senior Turkey researcher for Human Rights Watch, said they also signify a new chapter in Turkey's crackdown on civil society.