Venezuela opposition leader Ledezma flees to Spain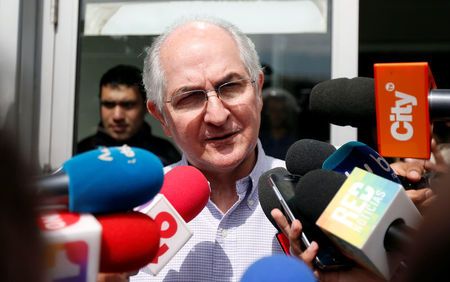 CARACAS/BOGOTA (Reuters) – Veteran Venezuelan opposition leader Antonio Ledezma, under house arrest since 2015 for alleged coup plotting, escaped across the border to Colombia on Friday and later flew to Spain.
With a 2018 presidential election looming, an array of major Venezuelan opposition figures are now in exile, detention or are barred from holding office.
They say Maduro has turned Venezuela into a dictatorship, while the government accuses them of joining forces with a U.S.-led global plot to topple him.
Ledezma, the best-known detained opponent of leftist President Nicolas Maduro after Leopoldo Lopez, had spearheaded street protests against Maduro in 2014 that led to months of violence and 43 deaths.
"In Spain today I feel free," he said at Madrid's Barajas airport, where he arrived in the early hours of Saturday. He was cheered by a small crowd including his wife and two daughters, who were already in Spain. Supporters chanted the Venezuelan anthem.