Were France burkini photos STAGED? A Muslim woman on a beach with no towel, no book, or parasol… and then forced to remove swimwear by police … fresh claims pictures may be SET UP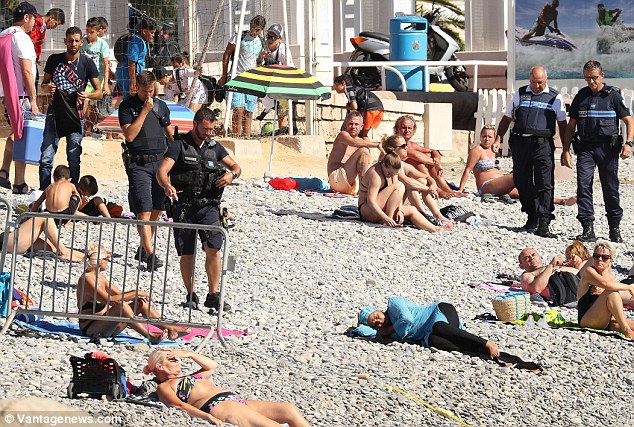 The France burkini row has deepened after claims that photos of a Muslim woman forced to remove her swimwear by armed police on a beach were staged.
French politicians and media questioned the controversial incident in Nice on Tuesday and asked why the woman was lying down on a beach with no towel, book or parasol in the full glare of the midday sun near a police post – with a photographer nearby.
They are fears France's controversial burkini ban, which began in Cannes, may be leapt upon as a propaganda tool by Islamic extremists.
French Socialist politician Julien Dray said: 'You don't need to be a genius to know what happened. I am suspicious. She is near a police post. She does not seem to want to sunbathe because she is covered up, but she does not have a parasol, either.
'Who sent a photographer to that spot to take those pictures. By whom? To what end? Hardly had they gone online than they went round the world, notably in the Middle East media.'