Boehner elected to 3rd term as House speaker, as GOP takes control of Congress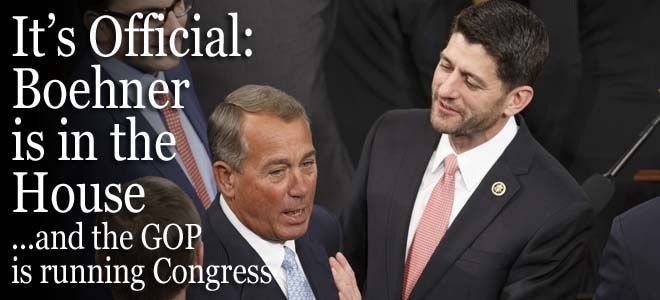 John Boehner beat back a conservative challenge to win a third term as House speaker on Tuesday, as he joined Sen. Mitch McConnell in presiding over the first Republican-controlled Congress in nearly a decade.
Boehner, at the start of the 114th Congress, now leads the biggest GOP House majority in nearly 70 years. McConnell, after his party picked up nine seats in the midterms, leads a 54-seat majority in the Senate. Boehner, in brief remarks before taking the oath, put jobs and the economy at the center of their agenda.
"Far too [many] Americans remain out of work. Too many are working harder only to lose ground to stagnant wages and rising costs. We can do better," Boehner said. "We can build an economy that furthers better-paying jobs, more growth and more opportunity for the nation's middle class. This is our vital task."
Earlier Tuesday, McConnell formally assumed the post of Senate majority leader, taking over for Harry Reid, who could not attend due to an injury he sustained while exercising at home last week.
The election for House speaker aired lingering divisions in the GOP. Three conservative lawmakers — Reps. Louie Gohmert, R-Texas; Ted Yoho, R-Fla.; and Daniel Webster, R-Fla. — were put forward as challengers; a total of 25 Republicans voted for candidates other than Boehner or voted present. Democrats mostly voted for California Rep. Nancy Pelosi, the minority leader.