Cuomo Promises Emergency Financial Plan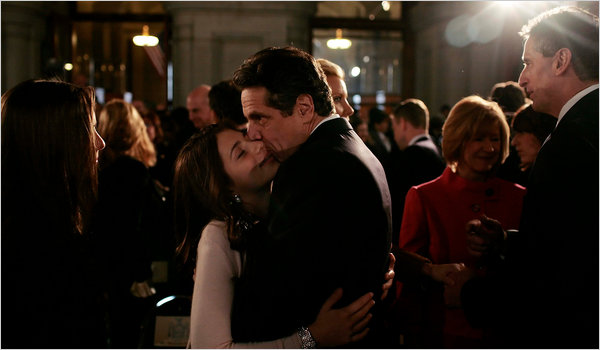 By DANNY HAKIM and NICHOLAS CONFESSORE, The New York Times
ALBANY — Andrew Mark Cuomo became the 56th governor of New York on Saturday, promising to immediately take on the state's huge financial problems and to fight to limit taxes on homeowners across the state.
In his inaugural address, Mr. Cuomo said he would unveil an emergency financial plan this week — a month before his first budget proposal is due — and push aggressively for stronger ethics enforcement in Albany.
"There is no more time to waste," Mr. Cuomo, 53, said in a 25-minute speech, his voice often rising. "It is a time for deeds, not words, and results, not rhetoric. It is time for a bold agenda and immediate action. There is no more waiting for tomorrow, and there are no more baby steps, my friends."
Mr. Cuomo, a Democrat, pledged to approach his job with "constructive impatience," shrink the size of the sprawling state government, and represent the interests of those who have lost faith in Albany.
He emphasized his plan to cap the growth of local property taxes, a particular concern to suburban and rural residents. That proposal is already setting off worry among local officials and some public-employee unions, who say that it will result in deep spending cuts in cities and towns.
Mr. Cuomo described residents as being imprisoned in their homes, which are losing value even as their tax bills keep climbing.
"Nothing is going up in their lives," Mr. Cuomo said. "Their income isn't going up, their banking account isn't going up, their savings aren't going up. They can't afford the never-ending tax increases in the state of New York, and this state has no future if it is going to be the tax capital of the nation."
His first moves as governor were symbolic: Mr. Cuomo declared that he would remove the concrete barriers that have surrounded the Capitol building since the aftermath of the Sept. 11 attacks; within minutes of his speech, workers began loading the barriers onto a flatbed truck.
He also opened a historic hallway outside the governor's office that Gov. George E. Pataki had closed off to the public.
To read more, visit: Cuomo Promises Emergency Financial Plan