France arrests 19 suspected Islamist militants in raids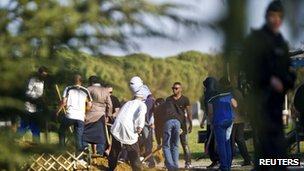 BBC News
The raids were in Toulouse, the home of gunman Mohamed Merah, and other cities.
Merah, who killed seven people in three separate attacks, was buried in Toulouse on Thursday after being killed in a shoot-out with police on 22 March.
Police have been hunting possible accomplices but sources said there was no direct link with the raids.
Mr Sarkozy told Europe 1 radio after Friday's raids: "It's our duty to guarantee the security of the French people. We have no choice. It's absolutely indispensable."
Forsane Alizza
The raids were carried out by the domestic intelligence agency, the DCRI, with the help of the elite Raid police commando group, Agence France-Presse news agency reports.
Several of the raids were in Toulouse, particularly the Mirail quarter, sources told AFP.
But there were also raids in Nantes, which is believed to be a centre for the Forsane Alizza (Knights of Pride) group, to which Merah had been linked by some French media.
It is a Salafist group that was dissolved by the interior ministry in an earlier investigation.
Merah was buried at the Cornebarrieu cemetery in Toulouse on Thursday
One of those arrested was the group's suspected leader, Mohammed Achamlane.
Police sources told AFP that three Kalashnikovs, a Glock pistol and a grenade were seized at his home.
Other raids took place in Lyon, Marseille, Paris, Nice, Rouen and Le Mans.
To read more, visit:Â http://www.bbc.co.uk/news/world-europe-17558564