Gates slams Europeans over NATO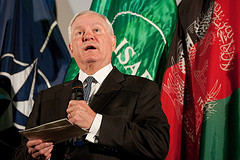 From Wire Reports, The Columbus Dispatch
BERLIN – Defense Secretary Robert Gates rebuked some of America's staunchest allies yesterday, saying the United States has a "dwindling appetite" to serve as the heavyweight partner in the military order that has underpinned the U.S. relationship with Europe since the end of World War II.
In a stinging speech, made on his valedictory visit to Europe before he retires at the end of the month, Gates condemned European defense cuts and said the United States is tired of engaging in combat missions for those who "don't want to share the risks and the costs."
"The blunt reality is that there will be dwindling appetite and patience in the U.S. Congress, and in the American body politic writ large, to expend increasingly precious funds on behalf of nations that are apparently unwilling to devote the necessary resources to be serious and capable partners in their own defense," he said in an address to officials and diplomats in Brussels.
Some NATO countries bristled, but Britain quickly and heartily agreed.
"Unless Europe carries more of the share of its own defense, we should not assume (Gates') successors will do the same," said Liam Fox, defense secretary in Britain.
Gates' assessment that NATO could face "a dim if not dismal" future echoes long-standing concern of U.S. policymakers about European defense spending. But rarely, if ever, has it been stated so directly by such a powerful American figure.
To read more, visit: Â http://www.dispatch.com/live/content/national_world/stories/2011/06/11/gates-slams-europeans-over-nato.html?sid=101