Gimenez takes oath as new Miami mayor, then requests union pay cuts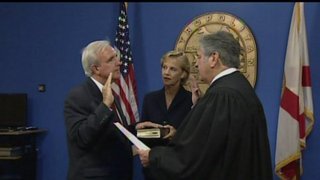 BY CHARLES RABIN, The Miami Herald
Just hours after officially taking office as Miami-Dade County's new mayor Friday, Carlos Gimenez sent eight key county unions a letter making a bold request: Give up pay raises, benefits hikes and bonuses to help cover a swelling $400 million budget gap.
And just that quickly, for some the honeymoon with the new mayor was over.
The police union did not take the request from Gimenez, a former firefighter, well.
"This is an insult beyond explanation," said John Rivera, the feisty chief of the Police Benevolent Association, which is being asked to take deeper cuts than other unions. "I'll agree to that the day he agrees to combat pay for our men and women. Carlos Gimenez knows what it's like to ride on the back of a shiny red truck, but he has no idea what it's like to ride a green-and-white."
The details: Gimenez is asking the unions to give up the 3 percent raises, bonuses and merit increases that went into effect Friday. The request for cuts to the police went deeper: In addition to giving up raises and bonuses, Gimenez asked union leadership to forego step increases that would reduce salaries by more than 8 percent.
Overall savings, the mayor said in his letter to the unions, would be $151.6 million. And, he said, "because I am committed to leading by example," he plans to cut $7.6 million in non-union employee pay, and cut his own $313,000 salary and benefits package in half.
Raising the specter of ousted mayor Carlos Alvarez, Gimenez said county residents have sent a clear message: "They want to roll back the Alvarez tax increase. They want a smaller, more efficient government that they can afford. I agree wholeheartedly with them."
Rivera, the PBA chief, said he and the mayor are "not going to see eye to eye."
To read more, visit: Â http://www.miamiherald.com/2011/07/01/2295021/gimenez-sworn-in-as-county-mayor.html