IL Governor signs Congressional map drawn to help Democrats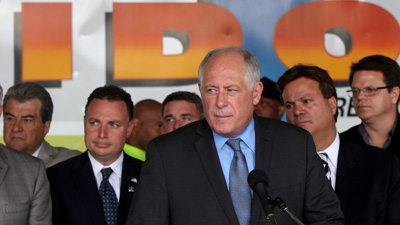 By Rick Pearson, Chicago Tribune
Gov. Pat Quinn signed into law the state's Democratic-drawn map of new Congressional boundaries, a plan designed to reverse Republican gains in last year's election that is expected to face a court challenge by GOP interests.
Democrats had unfettered control of the map-making process, a once-every-decade process mandated following the federal Census, by virtue of running the General Assembly and the governor's office. Due to Illinois' slow population growth in contrast to other states, the state will lose one of its 19 congressional seats for the next decade.
More than just reflecting population shifts, the map lines also reflect the political power of controlling the cartography.
The map pits some incumbent Republicans against others, stretches boundaries to allow incumbent Chicago Democrats to reach out into the GOP-leaning suburbs or gives GOP congressmen vast swatches of new unfamiliar territory.
In last year's mid-term elections, Republicans picked up four seats while keeping control of the North Shore 10th District opened by Mark Kirk's successful Senate bid. giving the GOP an 11-8 edge. But the alignment of voters in the new districts could allow Democrats to pick up at least three seats.
To read more, visit: Â http://www.chicagotribune.com/news/politics/clout/chi-governor-signs-congressional-map-drawn-to-help-democrats-20110624,0,2115352.story