Qaddafi Warns of Carrying Out Attacks in Europe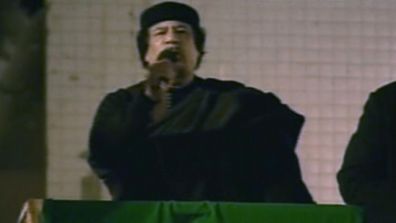 By Associated Press, FOXNews.com
TRIPOLI, Libya — A defiant Muammar al-Qaddafi threatened Friday to carry out attacks in Europe against "homes, offices, families," unless NATO halts its campaign of airstrikes against his regime in Libya.
The Libyan leader, sought by the International Criminal Court for a brutal crackdown on anti-government protesters, delivered the warning in a telephone message played to thousands of supporters gathered in the main square of the capital Tripoli.
It was one of the largest pro-government rallies in recent months, signaling that Qaddafi can still muster significant support. A green cloth, several hundred meters long and held aloft by supporters, snaked above the crowd filling Tripoli's Green Square. Green is Libya's national color.
Qaddafi spoke from an unknown location in a likely sign of concern over his safety. Addressing the West, Qaddafi warned that Libyans might take revenge for NATO bombings.
To read more, visit: Â http://www.foxnews.com/world/2011/07/01/qaddafis-son-claims-no-libyan-civilians-were-ordered-killed/