Rocket fired from Egypt hits Israeli city of Eilat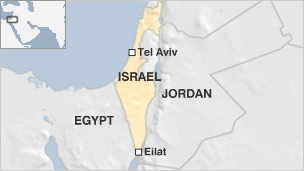 BBC News
A Grad rocket has landed in the southern Israeli city of Eilat, but has caused no damage or injuries, Israeli security officials said.
District police chief Ron Gertner told Israeli radio the rocket had been fired from Egypt's Sinai peninsula.
He said it struck a construction site close to a residential area shortly after midnight (21:00 GMT).
The blast took place as thousands congregated in the resort town for the Jewish holiday of Passover.
Rocket attacks from Egyptian soil are uncommon. Attacks on Eilat and the nearby Jordanian town of Aqaba in 2010 killed one person and injured another four.
Eilat Mayor Meir Yitzhak-Halevy told the Jerusalem Post that the city would function as normal despite the attack.
A wave of unrest has hit the restive Sinai peninsula recently.
Israel says militants have become active in the region since former Egyptian President Hosni Mubarak was overthrown in February 2011.
To read more, visit:Â http://www.bbc.co.uk/news/world-middle-east-17620925