Syria warplane 'bombs Raqqa petrol station queue'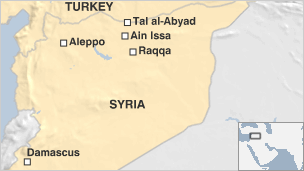 BBC News
A Syrian warplane has attacked a petrol station in the north-east of the country, killing at least 30 people, opposition activists say.
A rebel group said people had been queuing for petrol and diesel near Ain Issa at the time.
The village is some 20 miles (32km) from the Tal al-Abyad border post, seized by rebels on Wednesday after a lengthy battle with government forces.
The number of casualties was expected to rise, reports said.
Unverified footage posted online showed several charred vehicles and one activist group said 70 wounded people had been taken to hospital in the nearby town of Raqqa.
One activist told AFP news agency that the filling station was the only one still operating in the area and had been crowded at the time of the explosion.
A barrel of explosives was dropped on the petrol station, opposition activists said, causing a huge explosion and fire.
Syria's armed forces have exploited their air power in recent weeks, the BBC's Jim Muir reports from neighbouring Lebanon.
The use of hugely destructive but crude bombs involving a barrel packed with explosives has become increasingly common, he says.
It is often impossible to verify the circumstances and the extent of casualties involved in attacks in Syria because reporters are unable to travel around the country.
But the burned-out pick-up trucks and a smouldering tractor seen in the video indicated a recent attack.
A day after the Tal al-Abyad border post was seized by Free Syrian Army rebels, opposition groups reported that fierce clashes between government and rebel forces were still going on for control of security buildings in the town.
The rebel flag could be seen flying at the Tal al-Abyad crossing alongside the Turkish flag
The crossing-point is on the main road between Raqqa and the Turkish town of Sanliurfa and Turkish officials told AFP news agency that pro-Assad forces were shelling the area in an attempt to recapture the post.
Turkish media showed images of the rebel flag flying at the crossing alongside the Turkish flag.
To read more, visit:Â http://www.bbc.co.uk/news/world-middle-east-19665075