Thai women cheer first female prime minister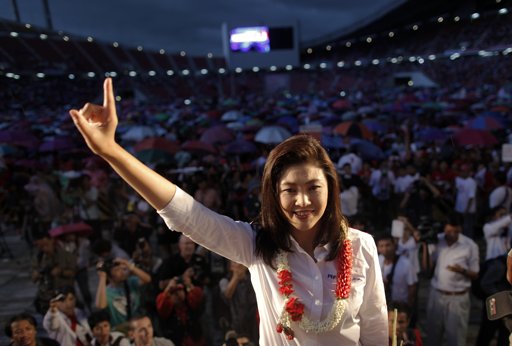 After six prime ministers in six years of sometimes bloody political upheaval, Thais might be excused for shrugging their shoulders about voting in number seven.
But this time there's one big difference. The new prime minister will be a woman, the first to hold the position in Thailand.
Yingluck Shinawatra, a 44-year-old businesswoman who wasn't even in politics two months ago, is poised to get the top job after the stunning election victory of Puea Thai (For Thais), whose de facto leader is her brother, fugitive ex-premier Thaksin Shinawatra.
Yingluck, known as Pou (Crab), the nickname her parents gave her, has never run for office or held a government post, so she has a lot to prove to show she can run the country.
But some Thais, especially females, want to give her the benefit of the doubt and see this as a big step for women in a country where they have struggled for equal representation in government.
To read more, visit: Â http://www.reuters.com/article/2011/07/03/us-thailand-election-women-idUSTRE7621CW20110703