100 Days of Trump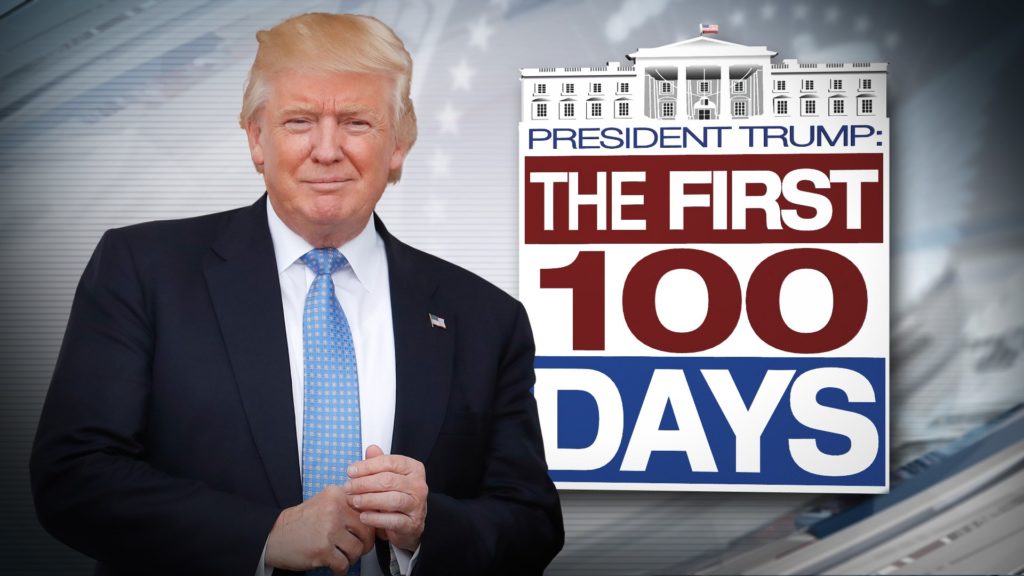 President Trump's dismissal that the 100-day marker is "artificial," couldn't be further from the truth. It is an arbitrary construct concocted up by the media in my opinion. That doesn't eliminate it or the fact that all eyes are on the President of the United States as the 100-day milestone is fast approaching though.
The White House is planning a packed week of activities leading up to Saturday which will mark the 100th day of President Trump being in office.
Trump will sign executive orders on energy and rural policies, dine with Supreme Court justices, meet with the president of Argentina and travel to Atlanta for a National Rifle Association event.
So, what has been accomplished thus far by the President?
Trump is set on Wednesday to announce his plan to cut taxes. Trump said Friday that his plan would include a "massive" tax cut for individuals and corporations.
The president said Friday he spent his first 100 days laying the "foundation" for progress later in his administration, including by building relationships with foreign leaders. According to Fox News.
But what has he accomplished?
His two proposed travel bans were shot down by Federal Judges, his attempt to repeal Obamacare has been stonewalled and met with heavy resistance by the Democratic Left at almost every turn and there is the question of where the money is coming from to pay for the border wall that he promised.
Has he accomplished anything since being in office?
Pulling out of TPP, Restoring the work effort on the Keystone pipeline and getting coal miners back to work for a start. Not to mention the appointment of his choice for Supreme Court Judge, Judge Neil Gorsuch. This one event is so monumentally huge that it is sadly going unnoticed now that he has his spot with the SCOTUS. It is a major win for President Trump.
He already abolished Obamas Social Security gun ban which would have allowed the Social Security Administration to strip beneficiaries of the Second Amendment rights without due process via Executive order.
Trump pick, Interior Secretary, Ryan Zinke; ended the last-minute Obama sneak tactic of banning lead ammunition on Federal lands.
He is working to defund sanctuary cities and has delivered more massive blows to the Taliban and ISIS in less than 100 days than Obama did in his last 200 days in office. President Trump is getting tougher and tougher on terrorism.
In his first 10 days of office, President Trump signed 20 executive actions. That's more than any modern era President in recent history has ever done. Most of these were ending fallacious executive orders emplaced by the Obama regime and his Czars.
He has signed orders to establish Presidents Commission combating drug addiction and the opioid crisis. He has rolled back many regulations from the Obama era. He put an end to the clean power ban and quite possibly the EPA. He scrapped the protections on reducing carbon monoxide emissions, which have been hurting small businesses for years. He even eased the regulatory burden on Obamacare.
Despite resistance from both sides of the aisle, President Trump is fighting tooth and nail it would seem to keep his campaign promises. There is still the question on the budget being voted on, and that deadline is fast approaching too. It needs to be voted on and passed before President Trumps 100 day in office marker, or parts of the government will be without money.
Congress returns Monday, after a roughly two-week recess, to try to pass a spending bill to avert a government shutdown Saturday.
The situation in the Republican-controlled Congress has been complicated by a potential showdown with Democrats over using the spending bill to pay for Trump's proposed U.S.-Mexico border wall.
The so-called shutdown deadline falls on the same day as Trump's 100th day in office.