2 Boston police officers in 'extremely critical' condition after shooting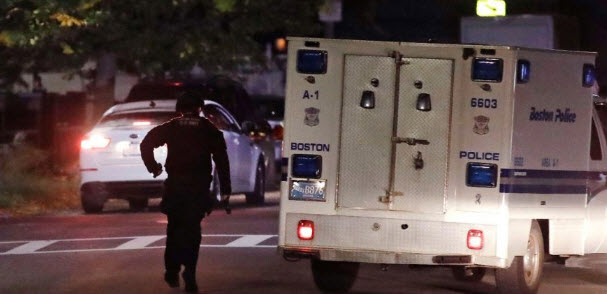 Two Boston police officers were "extremely critical" after a man wearing body armor and armed with an assault rifle shot them multiple times, police said Thursday.
Police Commissioner William Evans said the suspect fired at the officers late Wednesday night after they arrived at an East Boston home. Several other officers who were stationed outside ran inside and exchanged fire with the gunman.
"Domestic calls, as you know, are probably the most volatile. You never really know what you're walking into," Evans said. "And I think we see right now the dangers of our job."
The officers shot and killed the suspect and then began giving the fallen officers first aid. Evans said one of the wounded officers was a 28-year veteran of the force and the other a 12-year veteran.
"One officer had his hand in one of the wounds and I think that was instrumental in getting the officer down to Mass General quickly," Evans said.