Arkansas campuses prepare for gun-toting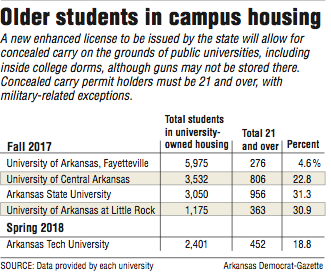 Students in campus housing at the state's public colleges and universities will soon be living with the prospect of sharing a residence with armed classmates. The state's expanded concealed-carry law raises new questions for school leaders and campus communities when it comes to housing.
The law prohibits license holders from storing guns in a dorm room, leaving schools to decide on protocols for handling any storage violations by students. Schools must also decide how to deal with any requests for room changes from students uncomfortable with having a roommate carrying a handgun.
State lawmakers last year greatly expanded concealed carry for those who go through training to receive what's known in Arkansas as an enhanced license. None have yet been issued — a required exam for firearms instructors could be offered for the first time this month, an Arkansas State Police spokesman said — but enhanced license holders will be allowed to carry handguns in many public facilities that previously had been off-limits.
Public colleges and universities in recent months began publishing information online about the law and holding informational sessions to prepare for concealed carry coming to classrooms, public grounds and campus housing.