At least 11 dead from powerful Texas tornadoes; 13 dead in Midwest flooding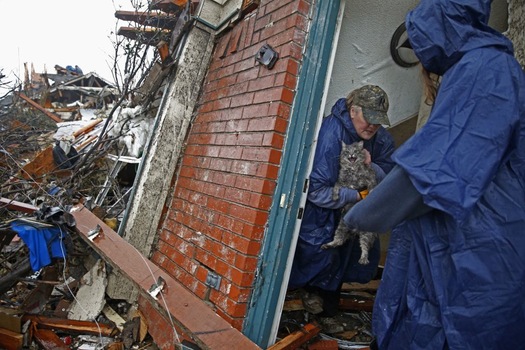 GARLAND, Texas — At least 11 people died and dozens were injured in strong tornadoes that swept through the Dallas area and caused substantial damage this weekend, while 13 people died in flooding in the Midwest.
It was the latest of a succession of powerful weather events across the country, from heavy snow in New Mexico, west Texas and the Oklahoma Panhandle to flooding in parts of the Plains and Midwest. Days of tumultuous weather have led to 43 deaths overall — those in Texas, plus five in Illinois, eight in Missouri and 19 in the Southeast.
The full extent of damage from Saturday's storms along a nearly 40-mile stretch near Dallas came into clear focus. Local officials estimated as many as 1,450 homes were damaged or destroyed in storms that the National Weather Service said produced nine tornadoes. Vehicles were mangled, power lines fell and trees were toppled. Heavy rain, wind and falling temperatures hampered cleanup efforts Sunday afternoon.
"This is a huge impact on our community, and we're all suffering," Garland Police Lt. Pedro Barineau said of the suburb about 20 miles northeast of Dallas, where eight people died, 15 were injured and about 600 structures, mostly single-family homes, were damaged.