At least 12 Charlotte cops injured in protests following officer-involved death of black man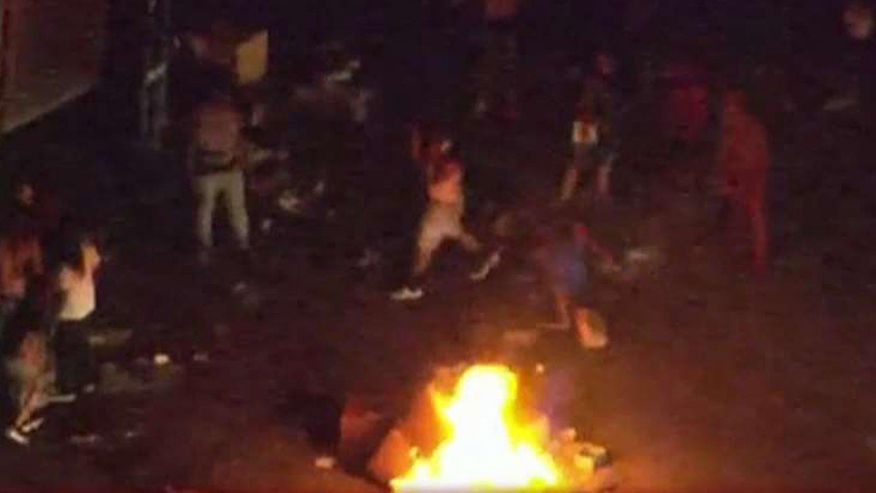 CHARLOTTE, N.C. – Authorities used tear gas to disperse protesters, officers were injured and a highway was shut down during protests in Charlotte, North Carolina, over the fatal shooting of a black man by police who said he was armed and posed a threat.
The protests broke out Tuesday after 43-year-old Keith Lamont Scott was fatally shot by a black officer at an apartment complex on the city's northeast side. They continued into early Wednesday morning, when TV footage showed dozens of protesters on Interstate 85 apparently looting semi-trucks and setting their contents on fire on the highway.
Neither the North Carolina Highway Patrol nor Charlotte police could immediately be reached for comment. The North Carolina Department of Transportation website showed a portion of I-85 near UNC Charlotte was closed in both directions early Wednesday. The website said the closure was due to police activity.
Tuesday night, a larger group of demonstrators gathered near the scene of the shooting. The Charlotte-Mecklenburg Police Department tweeted that demonstrators were destroying marked police vehicles and that approximately 12 officers had been injured, including one who was hit in the face with a rock. Photos and TV video showed police firing tear gas to break up the crowd. Some officers were in riot gear.
By 5 a.m. Wednesday, the streets were quiet with no protesters in sight. Broken glass and rocks littered the ground where a police car had been vandalized. Less than 5 miles away, wooden pallets barricaded the entrance of a Wal-Mart that had apparently been looted.