California voters consider law banning most bilingual education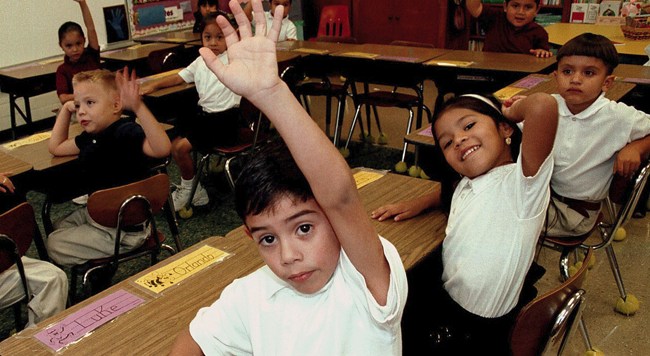 SANTA ANA, CALIF. – California voters are considering repealing a law banning most bilingual education, an idea state residents overwhelmingly endorsed almost 20 years ago.
English immersion was a hot-button topic when voters approved Proposition 227 in 1998, with supporters saying it would help non-speakers assimilate by forcing them to learn the language. Critics claimed it unfairly targeted the state's growing immigrant population.
This year's Proposition 58 has barely caused a ripple and is expected to pass, a reflection of California's transition to a state where Hispanics now outnumber whites and amid growing support for bilingual education in many places, including politically conservative Utah.
It's not just immigrant parents who want their children taught bilingually. Increasingly, English-speaking American parents want their children to learn Spanish, Mandarin and other languages to better compete in a global marketplace.
"Kids who speak multiple languages, they are more employable, and do better than their monolingual counterparts," said state Sen. Ricardo Lara, D-Bell Gardens. "The schools that have these programs tend to be in very influential parts of the state — what we want to ensure is every kid across the state, regardless of their zip code, will have access to these programs."