Congressman Louie Gohmert Floats White House Run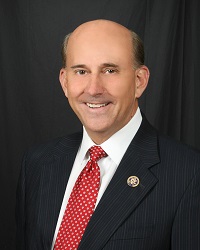 Rep. Louie Gohmert, R-Texas, one of the toughest-talking lawmakers in Congress, said he hasn't ruled out a run for the presidency in 2016.
But an aide, shortly after, said Gohmert was only speaking tongue-in-cheek and was not serious.
Still, when asked if he would support fellow Texas Republican Ted Cruz, who just announced he is running for the White House, Gohmert called the senator a good friend, but he wasn't sure how to answer that just yet.
"Ted is a good friend and would be an outstanding president," he said to The Hill. "However, I haven't ruled out an exploratory committee myself."
See the solution to the 100-year war for the soul of the GOP, in Richard Viguerie's "Takeover."
But an aide for Gohmert followed up the line of discussion with the Texas Tribune a little while later and said the congressman wasn't completely serious.
"Washington, D.C., contains too many who do not recognize statements made with a figurative tongue in cheek, sometimes known as being ironic," the aide said to the Texas Tribune.