Cuomo Lifts Talking Points From Pro-Union Think Tank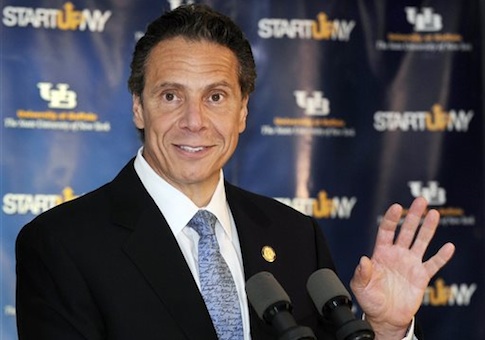 New York Gov. Andrew Cuomo allegedly plagiarized talking points from a think tank connected to the shadowy Democracy Alliance.
Cuomo published an op-ed in the Thursday New York Times calling for a substantial hike to the starting wage paid to fast food workers. Capital New York found that he relied heavily on the words of the National Employment Law Project, a pro-union activist group that is listed as a recipient of the Democracy Alliance, as well as other Democratic think tanks and liberal political apparatus.
A talking point from a [Working Families Party] memo circulated in January 2014 says, "More than 600 economists, including seven Nobel Prize laureates, recently affirmed the growing consensus that low-wage workers benefit from modest increases in the minimum wage without causing job loss."
The governor wrote in the Times, "More than 600 economists, including seven Nobel Prize laureates, have affirmed the growing consensus that raising wages for the lowest-paid workers doesn't hurt the economy."