Democrats call for end to Remain in Mexico asylum policy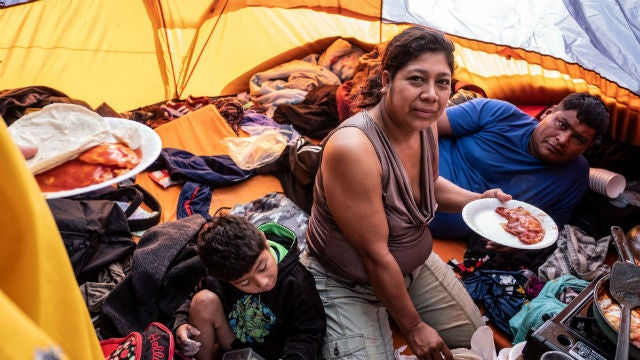 A group of two dozen Democratic and independent senators who caucus with them on Tuesday wrote a letter to Trump administration officials asking them to end a policy that forces some asylum-seekers to wait in Mexico while their claims process.
The senators in the letter to Secretary of State Mike Pompeo and acting Homeland Security Secretary Kevin McAleenan question the legality and impact on U.S. interests and migrant safety of the Migrant Protection Protocols (MPP), also known as the Remain in Mexico policy.
"Under the Remain in Mexico policy, the United States has turned its back on its domestic and international legal obligations by forcing men, women, and children to await resolution of their U.S. asylum cases in parts of Mexico plagued by violence," the senators wrote.
"While in Mexico, these asylum seekers have limited access to lawyers and shelter, which makes it nearly impossible for them to prepare their cases and effectively denies them meaningful access to the U.S. asylum system," they added.
The lawmakers noted increasing violence in cities where asylum-seekers have been made to stay and cited instances in which they were affected by violence.
"The growing body of evidence that migrants fleeing persecution face abuse or even death, along with the fact that the Remain in Mexico policy flouts our legal obligation to asylum seekers, underscores why we demand an end to this dangerous policy," they wrote. "It is imperative that the United States end this reckless course of action and reaffirm its commitment to the principles of due process on which this country was founded."
They said, citing Mexican officials, that by the end of August the number of asylum-seekers waiting in Mexico could rise to to 60,000.
The Hill has reached out to the State Department and Department of Homeland Security (DHS) for comment.
The letter follows news that the administration would be diverting $155 million in DHS funds to cater to the MPP program. The money would come from the Federal Emergency Management Agency's Disaster Relief Fund.
The controversial MPP policy has faced pushback from asylum officers and immigrant rights groups. It has also been challenged in court.
The Tuesday letter was signed by senators including 2020 presidential candidates Sens. Elizabeth Warren (D-Mass.), Bernie Sanders (I-Vt.), Kamala Harris (D-Calif.), Cory Booker (D-N.J.), Kirsten Gillibrand (D-N.Y.), Michael Bennet (D-Colo.) and Amy Klobuchar (D-Minn.).