Explosive device detonates near Elizabeth train station (VIDEO)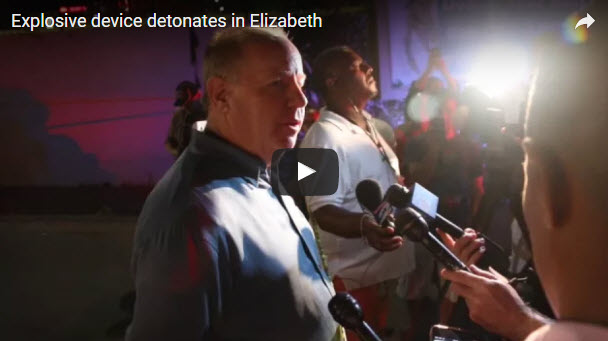 ELIZABETH — An improvised explosive device in a backpack detonated near the Elizabeth train station early Monday as authorities were using a bomb robot to examine the item, officials said.
The blast occurred around 12:40 a.m. near Morris Avenue and Julian Place. The explosion was not a controlled blast, but happened unintentionally as the robot was cutting the device, according to Mayor Christian Bollwage. No one was injured in the blast, Bollwage said.
Authorities found five devices inside a single backpack near the train station, including one that was detonated. After the explosion, press and bystanders were moved back because the four other explosive devices inside of the backpack were still believed to be live, Bollwage said. No other explosions were heard as of 5 a.m.
On Twitter, the FBI's Newark division described the devices as "multiple improvised explosive devices."
The incident unfolded after two men found the backpack in a waste basket on North Broad Street and Julian Place around 8 p.m. Sunday, the mayor said.