Former Maricopa County Sheriff Joe Arpaio announces plan to run for sheriff in 2020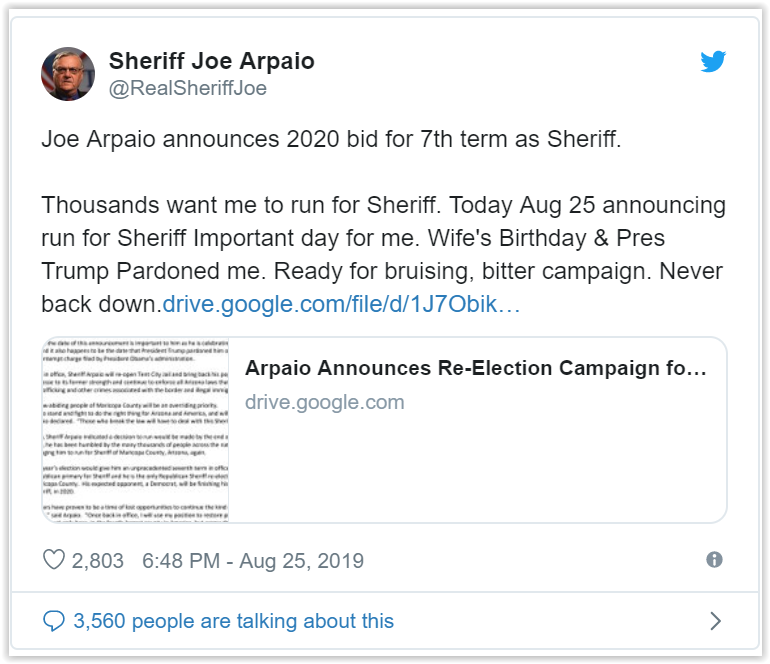 PHOENIX — Former Maricopa County Sheriff Joe Arpaio announced Sunday he will run for his 7th term as Sheriff in 2020.
In a press release, Arpaio, 87, said, "On this day, August 25, 2019, after consultation and approval from my wife of 61 years, Ava, I have decided to run to be re-elected Sheriff. Watch out world! We are back!"
Arpaio had previously served in office from January 1, 1993 until December 31, 2016, according to the release. His 24 years in office made him the longest serving Sheriff in Maricopa County history.
Arpaio noted the significance of the announcement being made on August 25. It's his wife's birthday and it is the same date President Trump pardoned him on a misdemeanor charge filed by President Obama's administration.
Arpaio said if re-elected, he will re-open Tent City and re-institute the Sheriff's posse.
"The last four years have proven to be a time of lost opportunities to continue the kind of tough policing this county needs," said Arpaio. "Once back in office, I will use my position to restore pride to our law enforcement ranks, not only here, in the fourth-largest county in America, but across the country."
The current Sheriff, Paul Penzone, defeated Arpaio as the democratic opposition in the 2016 election.
Sheriff Penzone issued the following statement Sunday night:
"I work every day building a professional, transparent office committed to integrity that puts the safety of Maricopa County families first. The heightened level of professionalism, emphasis on accountability, fiscal responsibility, reduction of lawsuits, and focus on public safety cannot be denied. I look forward to continuing our mission with the overwhelming support from the community who has entrusted me with the honor of serving. I am committed to a safe Maricopa County where politics has no place in law enforcement."
Alessandra Soler, ACLU of Arizona executive director, offered the following reaction:
"When Joe Arpaio talks about "those who break the law," he should be referring to himself. Following our lawsuit against him and the Maricopa County Sheriff's Office, a federal court found that Arpaio's office profiled and illegally detained Latinos and violated their constitutional rights. President Trump might've pardoned him, but those who had families and communities destroyed by his unlawful tactics have not. Joe Arpaio is a racist – and he should never hold public office again."
Former MCSO Chief Deputy Jerry Sheridan who is running against Arpaio in 2020 weighed in as well:
"To answer the question of whether or not I am staying in the race, I'll say that while Sheriff Arpaio and I would agree on things like bringing back Tent City and rebuilding a strong Posse, our styles and priorities are quite different. My focus has always been on getting the bad guys not getting headlines. We need a professional and proven lawman to win this office back and the voters have already made it clear they will not vote for Joe. So I will remain in this race and offer voters a 38-year veteran of the Sheriff's office as a candidate who can win in 2020."