Hurricane Florence could strengthen to 'life-threatening' Category 5, as about 1.5M people evacuate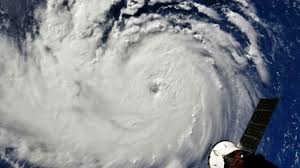 Hurricane Florence, with its 140 mph winds, continues its "life-threatening" push toward the Carolinas and the Mid-Atlantic states — where more than 1.5 million people have been ordered to evacuate.
President Trump late Monday approved an emergency declaration for North Carolina, which authorizes the Department of Homeland Security and FEMA to coordinate disaster relief efforts for "the hardship and suffering caused by the emergency on the local population," a White House statement said.
"Please be prepared, be careful and be SAFE!" Trump tweeted Monday evening.
The hurricane, which as of 5 a.m. Tuesday was centered about 975 miles east southeast of Cape Fear, North Carolina, had sustained winds of 140 mph and remained a Category 4 as of early Tuesday morning. Scientists warn, however, the unusually warm waters in the Atlantic could accelerate the storm's winds to 155 mph – giving it near Category 5 intensity.